Mentor a young person in foster care
Youth in foster care are looking for committed, caring adults in the greater Boston area who will have a reliable and meaningful presence in their lives. You don't need a degree to be a volunteer mentor—you just need a caring heart and willingness to support your mentee through joyful and challenging times.
As a mentor, you will meet an amazing young person who can change your life. Watch our 20-minute info session to learn more about becoming a Silver Lining mentor. We are always in need of new mentors with varying backgrounds. Currently, we have an urgent need for male-identifying mentors, particularly men of color.
Mentors are Memory-keepers
Sharing memories through the frequent changes that mark youths' experience in foster care.
Building a trusting relationship grounded in care and respect.
Offering consistency, a sense of belonging, and emotional support.
You—yes, YOU!—can become a mentor!
What you need to know about mentoring youth in foster care:
Young people

enter the foster care system through no fault of their own

when their living situation is deemed unsafe by the

Massachusetts Department of Children and Families

.

As a volunteer mentor, you will be a stable port in a storm of uncertainty for one of the thousands of young people impacted by foster care in the Greater Boston area.

Our mentor training

sets you up for success before you are matched with a young person aged 7 to 22 years old.

You are not alone in your mentoring relationship! Silver Lining's clinically informed staff will be with you the whole way to support and coach you to be the best mentor you can be.
What do young people look for in a mentor?
A caring heart

Someone to cheer them on and celebrate with

Someone to call on during tough times

A friend who's there for them, regardless of where or how often they move

Shared interests

Shared identities, such as racial/ethnic or LGBTQ+ identities
Help a young person thrive. Listen to them. Learn with them. Empower them.
Volunteer mentor application process
Our mentor application process helps us learn more about you and your strengths. The matching process is youth-driven, which means that we work with each young person's preferences to connect them with the right mentor.
After you watch the info session, your application will be emailed to you. If you have questions, check out our Mentor FAQ or contact us!
Values that Make a Great Mentor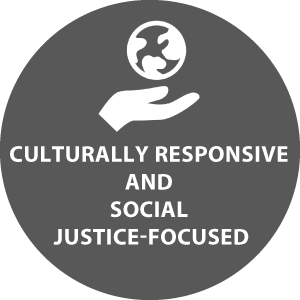 Q&A with Mentor Natalie
How did it feel to meet Justin for the first time?
I first met Justin during our initial Learn and Earn session. All of the mentors and youth leaders were sitting in a circle after our group introductions, and Mobile began calling out names of matches to stand up and begin our first one-on-one meetings. I remember feeling nervous, and so many questions ran through my mind: Would he like me? Would I be a good mentor? Would we have anything to talk about, anything in common? When we began talking I realized that there was nothing to worry about. We may have different interests, different life stories, and different goals, but it was evident from our first conversation that we share a set of core values, and a way of seeing the world. Since the moment we sat down that evening, I haven't thought of those questions again.
What were your concerns about being a mentor?
I think I was concerned that I wouldn't be cool enough to be Justin's mentor! Better said, I was concerned about being able to walk the line between being a friend and being a role model; sometimes they have conflicting aims. When I was a teenager, the people I looked up to as my mentors were people who I wanted to become, but who weren't afraid to give me guidance when I needed it. Luckily for me, Justin has made it so easy to be a good mentor. He has an amazing gift for becoming friends with just about anyone, and is never afraid to ask for advice.
What excited you most about being a mentor?
Throughout my life I have been lucky to have had some amazing mentors to guide me through tough professional decisions, personal dilemmas, and daily life challenges. It's invaluable to have someone there to act as a sounding board when you aren't sure what to do, or when you know exactly what to do but need a little encouragement. I was so excited to have the chance to fill that role for a young person, particularly because there are so many tough decisions at that age. You're figuring out who you are, and who you want to be, and sometimes it's nice to have someone to talk to whose sole purpose is to support you and to be there for you, with no other angle. It's such a privilege to be a mentor, and I am especially lucky to be a mentor to someone as driven, caring, and selfless as Justin.
Can you describe your transition meeting?
During our transition meeting, we met with our wonderful coordinator, Julie, to discuss transitioning from our Learn and Earn (L&E) relationship into a community-based relationship. Fortunately, Justin and I had already spent twelve weeks together during L&E and had gotten to know each other a little bit, so we knew what we each wanted from community-based mentoring. Julie led us in a frank discussion of expectations and rules, as well as our schedules and time constraints (Justin and I will both be heading to school this fall!) and we set up our first meeting for the following week at a coffee shop.
How do you connect with your program coordinator for support?
Julie has been incredibly accessible and helpful as our program coordinator. Whenever I have a question or concern, I send Julie an email or pick up the phone and she is there to offer guidance and support.
SUCCESS STORY
Jessica F. and Chelsea
"Chelsea and I have been in our match relationship for almost two years. Ever since our first match at Learn and Earn, Chelsea and I discovered something funny that we both have in common. We both love food and free events. Something which makes our mentorship unique is our willingness to be open with each other. What makes our mentorship successful is our willingness, enthusiasm, being open, and positive attitudes. All of the secret ingredients for a simple but yet perfect mentorship." – Jessica F.